Control Unit
€749.00
Out of stock
Description
[ps2id id='tab-blk-desk' target="/]
The Control Unit is the new Power Unit for Tattoo Professionals. Compact, handy and technological, it's designed to control all types of tattoo machines available on the market. It allows to connect up to three machines at the very same time – two rotary and one coil or three rotary – guarantees the operation of one machine at a time.
Through the fast feedback hardware technology with software control you will be able to draw on the desired voltage, with precise response and control in any condition of use.
The Control Unit improves the performance of every tattoo machine and provides uniform power at any voltage. In particular for rotary machines are possible to drive both in the voltage and in PWM which allows, even at low speeds, to maintain a constant force. Regarding coil machines, a voltage self-regulation tool have been introduced. In which shows a graph showing the instantaneous consumption and a parameter (E-DETUNE) which indicates the percentage of deviation of the correct tuning.
Color: Black, Red
Compatible with all machines
Fast feedback hardware technology
Power output with low ripple
Current output 6A (rms) , 8A (peak)
Color graphic touch display to interact with tools and all control sections
Double control mode voltage and pwm for rotary machines
V Step voltage adjustment with feedback for rotary machines
Auto tuning for coil machines
E-detune for coil machines
Power imput bypass for other devices
USB-a power output
Colour and touch display
6 preset for each tattoo machine output
Timer to monitor real time and total usage
Intuitive interface
Visual themes of your choice
More features with next firmware upgrade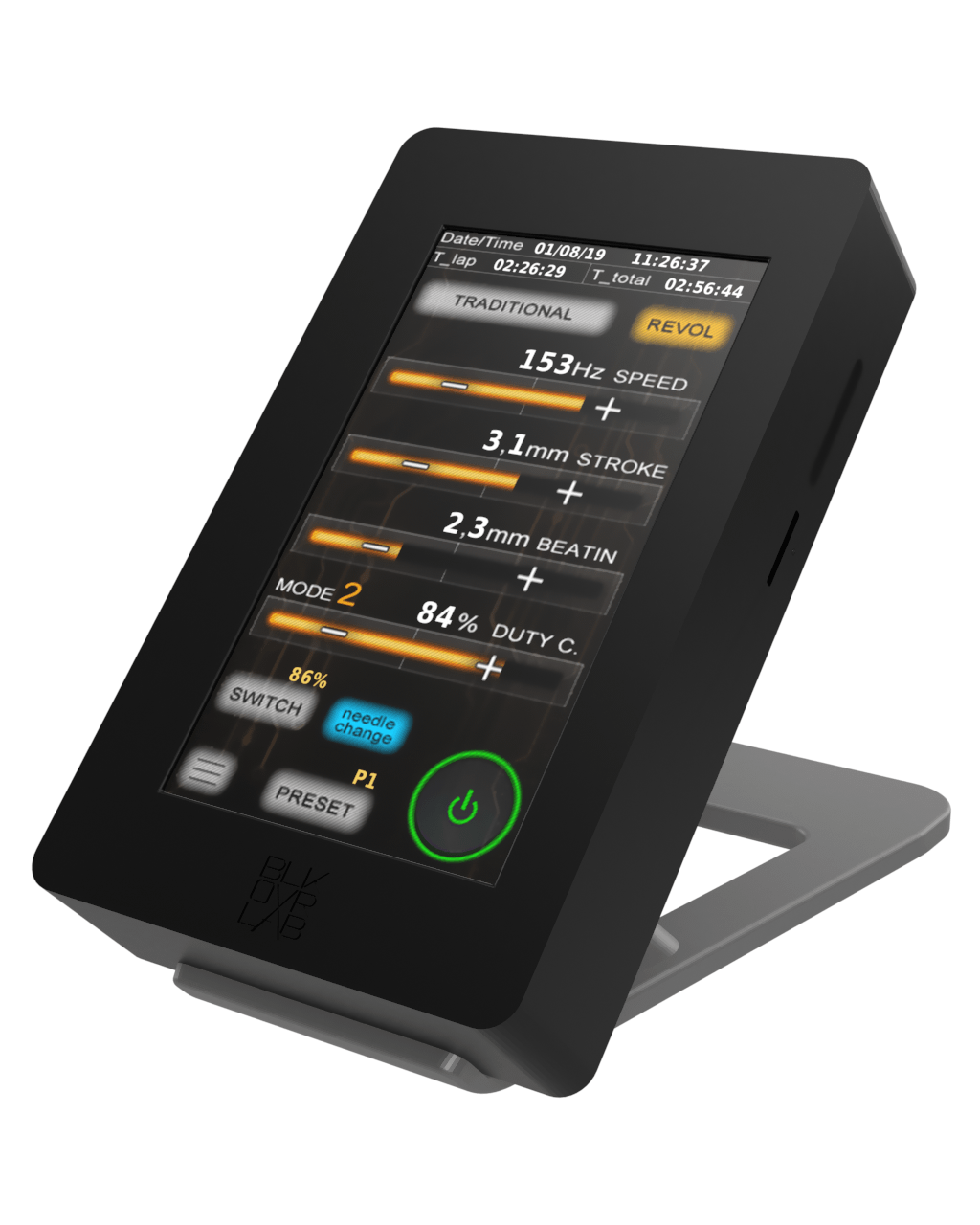 <60mA (standby) <20mA (power off)
Output voltage (machines)
2 … 18 volt DC (low ripple)
Voltage regulation (machines)
Current output (machines)
Output voltage (aux output)
Current output (aux output)
Output voltage (standard USB)
Current output (USB Type A)
All the machines by cable, BlackOverLab's machines wireless and by cable
LCD touch 4.3in 480×272 px
2 POWER-INLET 2.5mm
3 Jack Connector 3.5mm
1 Revol Connector
1 USB Type A
1 Micro USB Type B
1 Mini USB
1 Micro-SD
BLE (bluetooth low energy) 4.1 2402MHz – 2480MHz
maximum power less than
10mW
6 PRESET for each machine
Voltage or PWM (only for rotary machines)
Enabled for rotary machines
Additional information
| | |
| --- | --- |
| Weight | 1 kg |
| Color | Silver, Black, Red |
Only logged in customers who have purchased this product may leave a review.